New York City Urban Training Camp
5 May - 10 May 2017 in New York City
Join Steve Maxwell in New York City for the Urban Training Camp.
In May, Steve will convene on the island of Manhattan for an innovative spring training camp.
Meet up with Steve on Manhattan's Upper West Side and benefit from his approach to healthy living in the city and unique outdoor conditioning strategies. Directly experience how Steve reconnoiters the urban landscape for pull-up and workout opportunities and keeps up his training discipline amid the distractions.
Training Activities
Training activities will be held at various locations around Central Park, Riverside Drive, various public playgrounds, and friendly host facilities. Anticipate running, pulling, pushing, lifting, pressing, and a very special kettlebell session.
Additional activities: walking-breathing drills, joint mobility, therapeutic massage techniques, and visualization as an active recovery.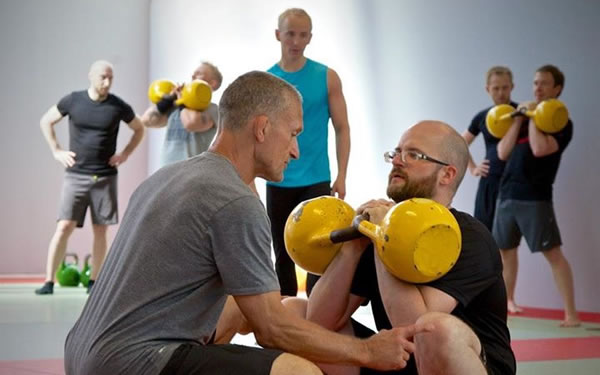 Accomodations
To allow for local participation, accommodations are not included in the registration fee. Steve recommends a very economical hotel called Riverside Tower Hotel, and will be staying there himself. At 80th St. and Riverside Drive, this hotel is converted from former dorm rooms of Columbia University and is a great value on the UWS. It is private, cozy, and clean, with mini-fridge and microwave in each room.
The typical single room is about US$135/night, and a terrific "suite" option is $160 - 169/night. The suites are two dorm-size bedrooms sharing a bathroom in the middle. These suite rooms will accommodate up to 4 people, if you are looking for a real budget stay with 1-3 friends.
This camp is priced invitingly at $650 reflecting the low overhead and Steve's natural goodwill.
Delicious Morning coffee, smoothie, or comparable from Juice Press are included with registration fee.
Feel safe, healthy, and fit-for-anything in the city with Steve -- you can expect to feel inspired, as well as improve your health, fitness, and well-being over five springtime days in New York, New York -- you can't afford to miss it.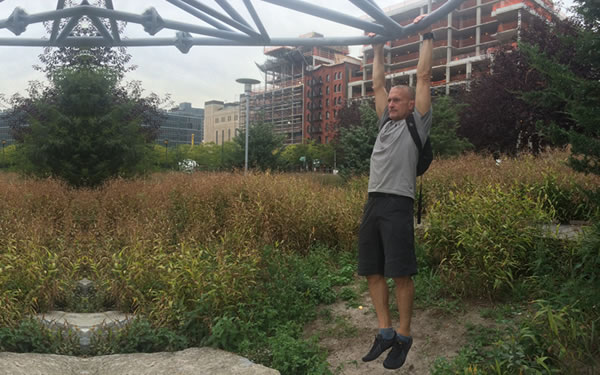 Camp Itinerary
The camp begins early evening on Friday 5 May, with a welcome meet-up at Riverside Tower Hotel (view map) or nearby (TBD) This is your chance to get acquainted with your fellow travelers and orient yourself to the coming week's labors and enjoyments. Formal training commences 9:00 AM Saturday morning, mustering at the hotel cafe and continuing out to Central Park.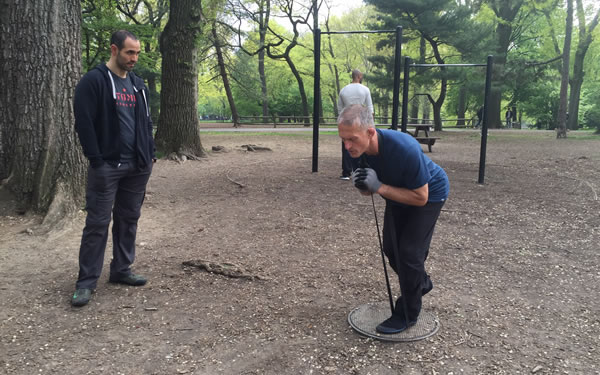 Training takes place each morning for several hours. Exercises and protocols are adapted to your personal skills, the terrain, and Steve's grander vision for you as an individual.
There are additional included and optional excursions:
Walk across the park to the Urban Museum of Art and visit the antiquities exhibit with Steve for a thrilling, edifying discourse on classical human aesthetics
Join Steve for a morning constitutional on the High Line
Head over to a clean, well-lighted neighborhood gym for a Maxwellian kettlebell workout that blows the mind with optimal oxygen (and informational) uptake
Take a little trip to Todt Hill on Staten Island for a high-minded workout of the day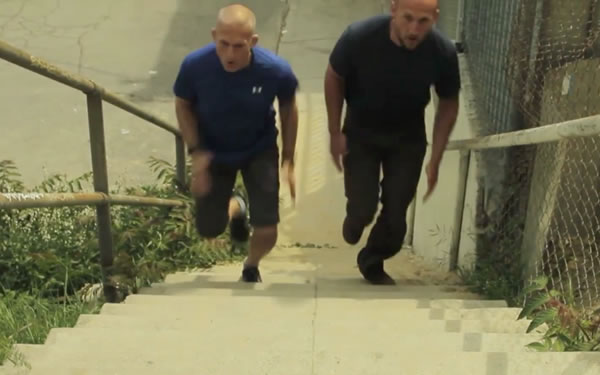 The final days of the camp, Steve will meet with each trainee privately, offering counsel and recommendations for your follow-up training, based on Steve's observations and your goals, abilities, and best interest.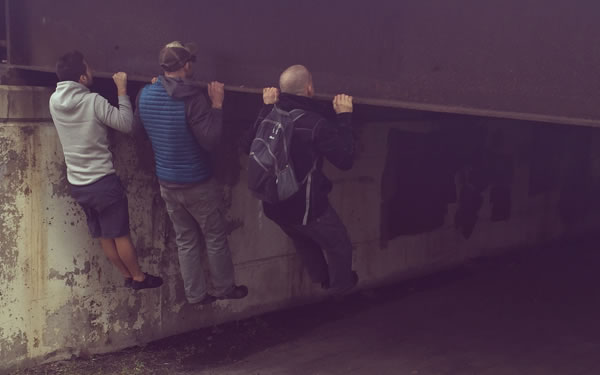 Prepare your arrival with care -- you will regret missing even a moment with Steve. For assistance in travel planning, room shares, and transfers, email Maxwell Service Desk.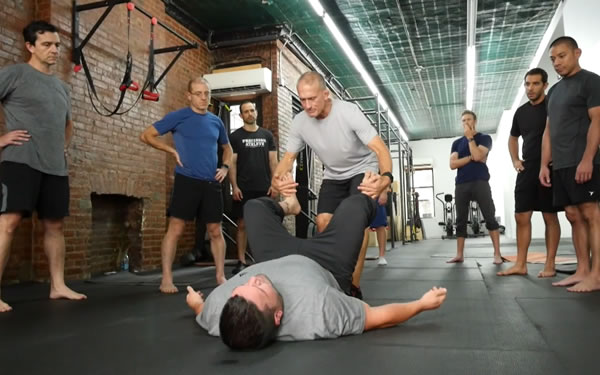 Cost: US $650.00
Includes 5-days daily training with Steve, coffee or tea, and smoothie or juice per day, plus all sponsored activities.
Travel to and from New York, meals, transfers, and accommodations are NOT included in this price.
For further question or assistance with travel arrangements, email the Maxwell Service Desk.
Register for this Event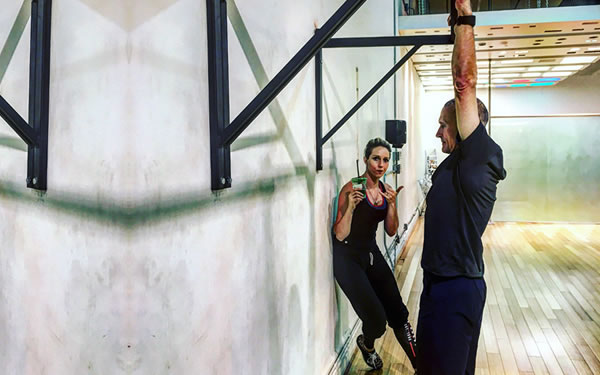 Sign up for the Steve Maxwell Newsletter to receive updates on this amazing event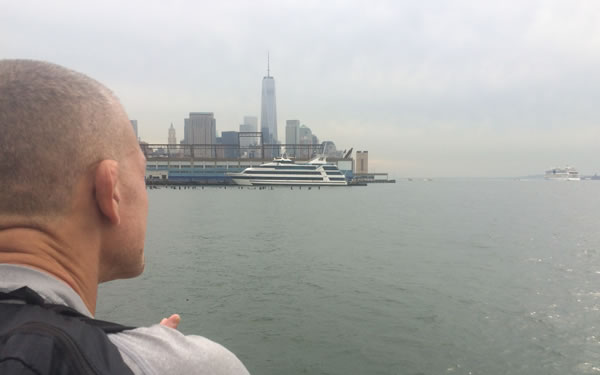 TRAINING CAMP TERMS & CONDITIONS
Your registration is to be considered as a contract between you MaxwellSC.
After registration and payment of your camp fee, the camp fee is non-refundable. This means that no fees will be repaid even if for some reason you cannot attend the camp. If you would like to transfer your spot to someone else, please promptly send email notification.
If you change your address, email address or telephone number after your registration, please inform us, so that you will receive all updates on everything related to the camp.
In the event that Steve must cancel this event, all fees are promptly returned 100%.
MaxwellSC is not responsible for any injuries that may happen during the camp period.
MaxwellSC is not responsible for any personal belongings at the camp.
When registering to the camp you automatically have agreed to the terms above for our camp.