Steve Maxwell's Ikaria Greece Camp 2017
Friday 23 June - Wednesday 28 June on Ikaria Island, Greece
Find your foundation in Greece. Join Steve Maxwell on a trip to his heart's home on Ikaria Island.
In June 2017, Steve visits the far-off island of Ikaria in the Aegean Sea, 10 nautical miles southwest of Samos. Its name is derived from Icarus, the son of Daedalus in Greek mythology, who fell into the ocean nearby.
Come along with Steve and benefit from his unique outdoor conditioning strategies. You can expect an immersion experience into a simpler, essential way of life, relating both to nature and the people around you. You can expect to walk away stunned with what you have learned, and with a commitment to a more profound aspect of yourself.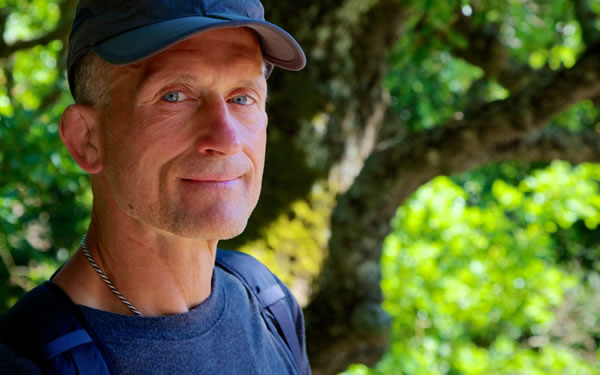 Training Activities
Training activities are conducted at various locations around the island, including running, jumping, swimming, lifting, defending, climbing, hiking and swimming.
Additional activities: walking-breathing drills, joint mobility, and partner massage as active recovery.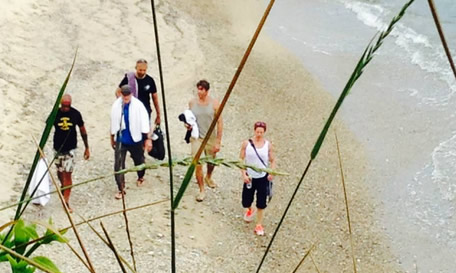 June is an excellent time of year to visit, and just before the tourist high-season.
Accommodation is at Hotel Atsachas, in the small town of Armenistis, overlooking Livadi beach, where the hotel has a private stone stairway leading to the sand.
Atsachas is considered the best restaurant on the island, and a substantial late-afternoon meal is included with each day of your stay. This is home-style Greek cooking with an Ikarian flair. A light breakfast is included. Kitchenettes are available.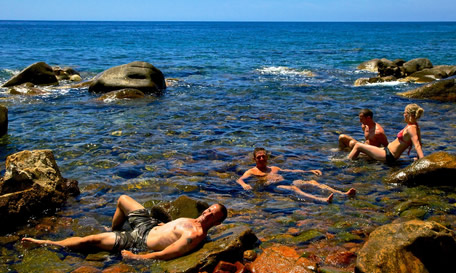 The camp begins early evening on Friday, with a welcome meet-up on the terrace of the Atsachas restaurant, including complimentary food and beverages. This is your chance to get acquainted with your fellow travelers and orient yourself to the coming week's labors and enjoyments. Formal training commences 9:00 Saturday morning, mustering outside on Livadi beach.
Daily training takes place each morning, and some afternoons. Training exercises are adapted to your skills, the terrain, and Steve's grander vision for you.
One day will be spent hiking to the mountain-top redoubt of Giannis, our host. This is an exhilarating, unforgettable experience at an indescribable location.
There are additional included excursions -- see below.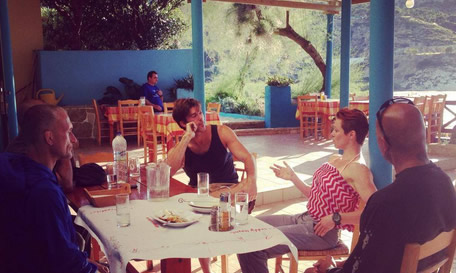 The final day of the camp, Steve will meet with each trainee privately, offering his counsel and recommendations for a progresive training program moving forward based on Steve's observations, your fitness goals, abilities, and best interests.
Prepare your arrival intelligently and with care! It takes some time and strategy to get to Ikaria, and if you need assistance, please email Maxwell Service Desk. You will regret missing a moment of this singular event.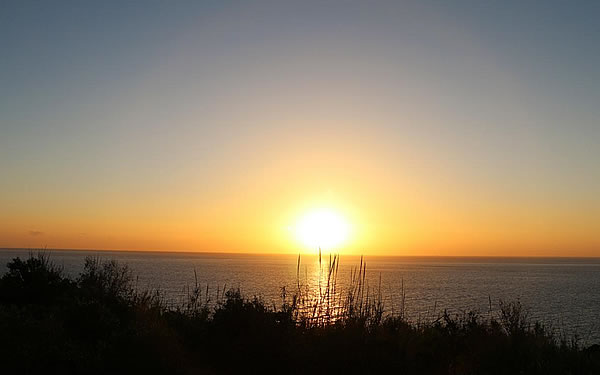 Cost
Double Occupancy: US $875
Single Occupancy: US $1000
This includes single-occupancy accommodation at Atsachas Hotel, one substantial meal per day, a light breakfast, plus all sponsored activities.
Travel to and from Ikaria island is NOT included in this price. Airport/ferry transfers NOT included. How to get to Ikaria island.
For assistance with travel arrangements, email Maxwell Service Desk.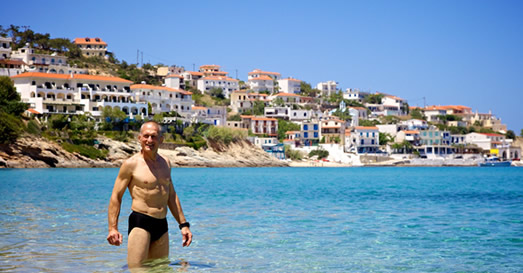 Proposed excursions
Hike from the seaside village of Armenistis to the mountain village of Agios Dimitrios. This hike is of easy-to-moderate difficulty and takes several hours each way. Lunch at the top in Agios Dimitrios. Walk back by the main road.
Visit to the ancient Roman baths at Therma, where the hot springs run into the ocean.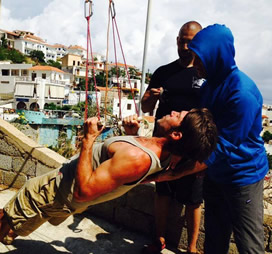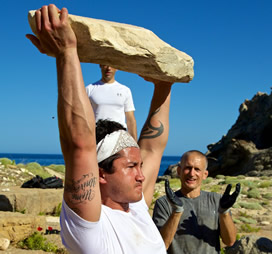 Run, walk, or ride the bus, from Armenistis to Nas (approx 5 km of hilly road)... stone lifting workout at the temple of Artemis
Evening trip and dinner at the mountain village of Christos Raches or Nas. Experience a traditional meal with local Ikarian wine and dancing.
Register for this Event
Sign up for the Steve Maxwell Newsletter to receive updates on this amazing event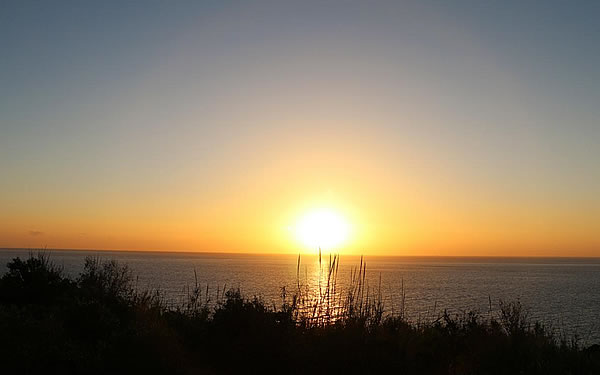 TRAINING CAMP TERMS & CONDITIONS
Your registration is to be considered as a contract between you MaxwellSC.
After registration and payment of your camp fee, the camp fee is non-refundable. This means that no fees will be repaid even if for some reason you cannot attend the camp. If you would like to transfer your spot to someone else, please promptly send email notification.
If you change your address, email address or telephone number after your registration, please inform us, so that you will receive all updates on everything related to the camp.
In the event that Steve must cancel this event, all fees are promptly returned 100%.
MaxwellSC is not responsible for any injuries that may happen during the camp period.
MaxwellSC is not responsible for any personal belongings at the camp.
When registering to the camp you automatically have agreed to the terms above for our camp.